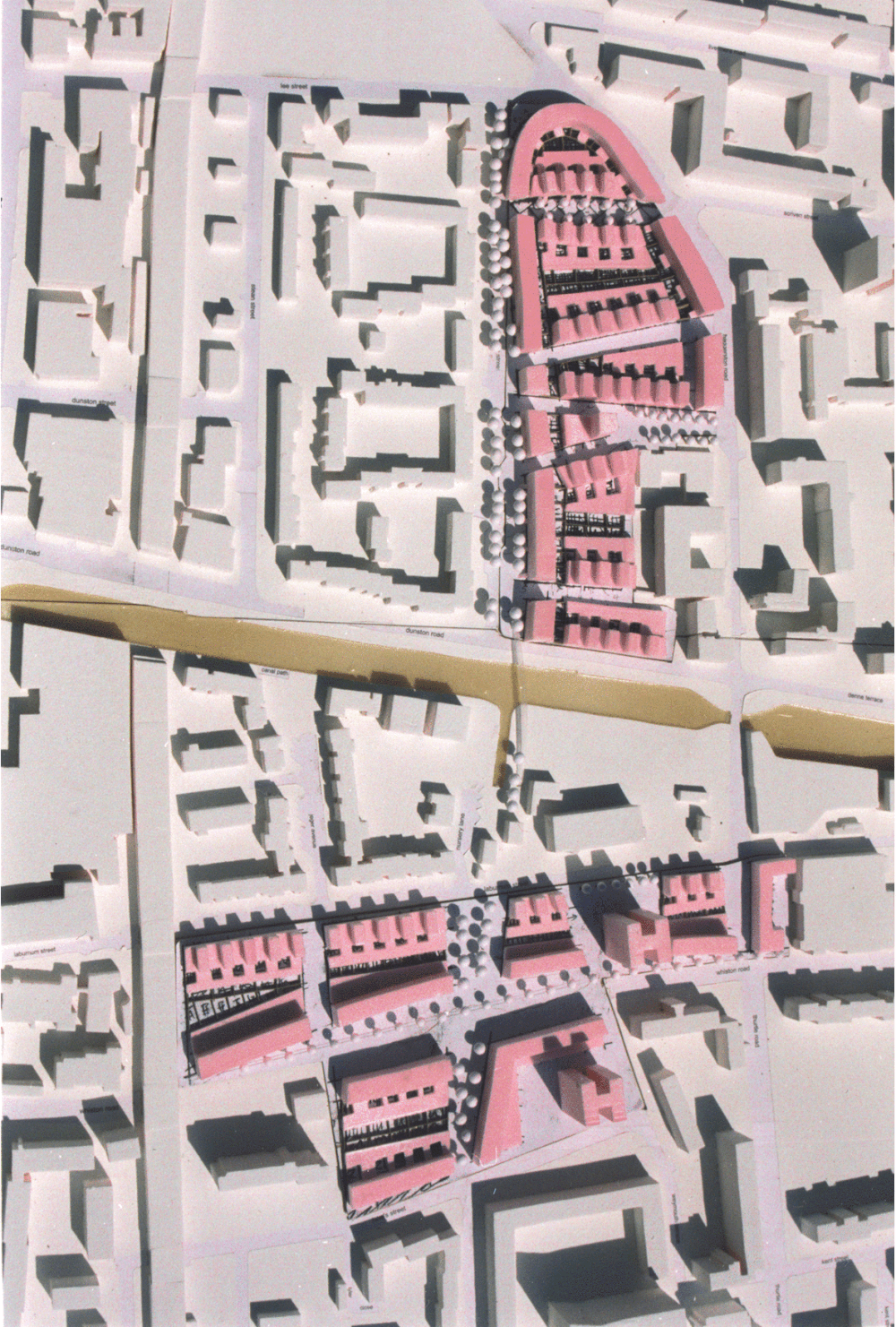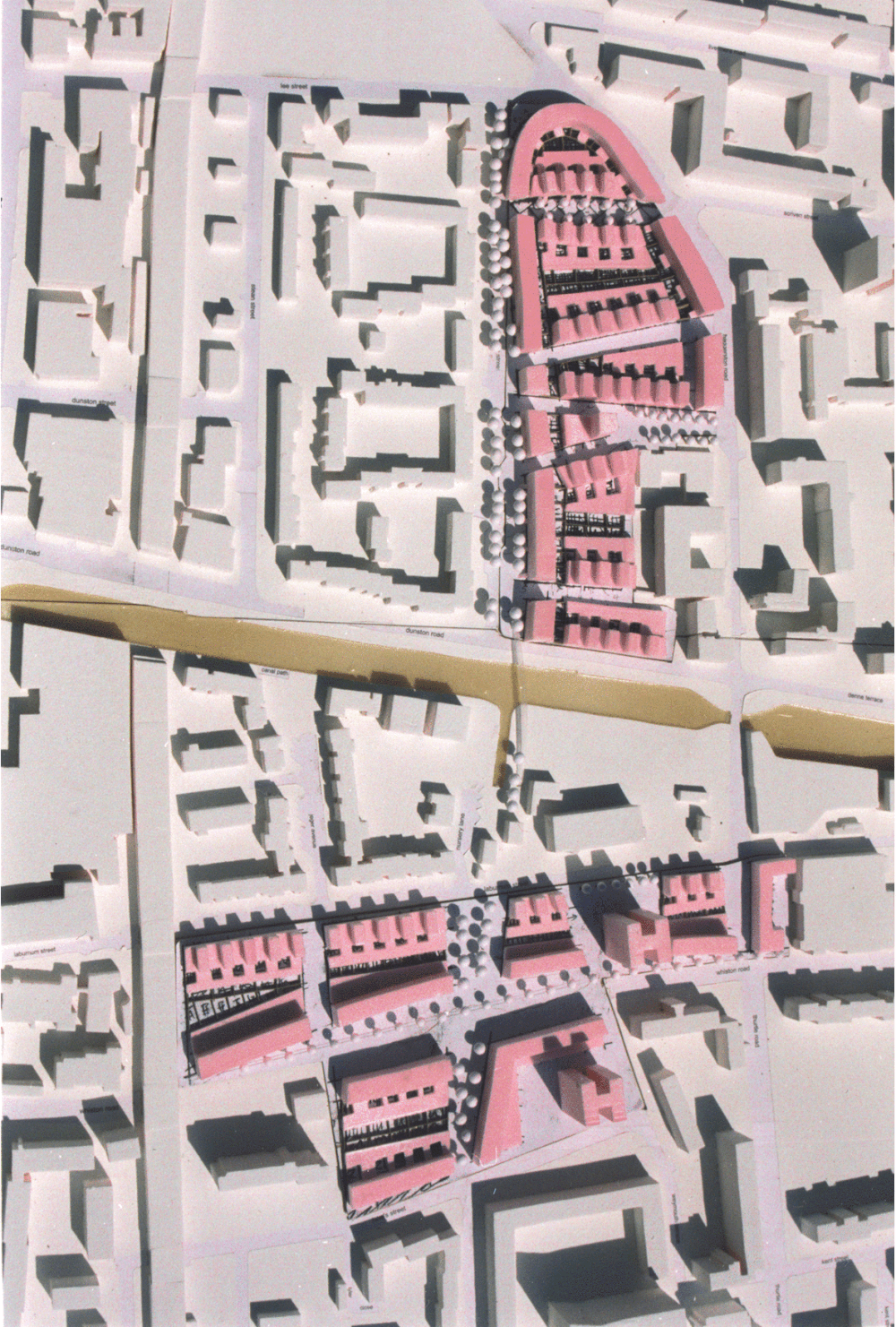 haggerston and kingsland masterplan
With Jestico + Whiles
" WHILE THE DESIGN OF THE HOUSING IS INGENIOUS AND GENEROUS, THE MOST IMPRESSIVE THING ABOUT THIS PLAN IS THE USE OF LANDSCAPE AND FACILITIES TO CREATE A COHERENT PLACE THAT CAN TRULY BE CALLED CIVIC."
KIERAN LONG, BUILDING DESIGN, MARCH 9, 2001
This is an ambitious design for a dense urban quarter in South Hackney configured around a tight network of streets which are designed to weave together adjacent neighbourhood and to promote a vibrant buzzy thriving street life. The buildings contain 600 dwellings, live/work spaces, shops and community facilities. At the heart of the scheme is a linear park running from Hackney Road in the South of the Borough to Stonebridge Common to the north.
This urban design aims to create a new urban quarter of vibrant streets and public space and a safe and stimulating environment in which people can live, work and socialise.
The area is to be laid out on a clear system of axial streets, which establish a strong spatial and visual connection between the site and adjacent neighbourhoods. New streets are created in locations, which line up with existing routes on the surrounding estates, facilitating movement around the area and providing places where people from all around might meet.
The character of the streets/routes vary according to their location, their likely through put of traffic and the use of the buildings which flank them.
East/west routes through the Haggerston West Estate have an intimate scale and primarily comprise 2/4-storey residential accommodation. They include a double crescent street at the northern tip of the site and a small tree lined square alongside the community centre. Whiston Road is widened in to a south-facing crescent, with employment generating live/work units and the newly refurbished Haggerston Baths giving on to a wide tree lined pavement. Clarissa Street is also widened into a broad boulevard or green route linking a number of pre-existing public gardens (Apple and Pears Gardens, Stonebridge Common, Laburnum Boat Club), and providing additional leisure facilities and play areas. It is hoped that the north and south of the route might be linked by a pedestrian footbridge, which would create a delightful uninterrupted cycle and pedestrian route from Hackney Road to Stonebridge Common.
The project is designed to accommodate a vibrant mixture of uses.
Shops currently located at the north end of the site will be retained. At least one shop will be provided on Whiston Road. Workspaces are to be located at ground floor level on Whiston Road. Leisure facilities will be created along the green route and at Haggerston Baths. The design seeks to promote mixed uses wherever appropriate in other locations within the scheme.
A variety of housing types are provided to reflect the diversity of residents needs and desires ("high up, ground floor, maisonette, house, flat"). In all cases though, a terrace typology is adopted with dwellings accessed at regular intervals on the street. Dwellings are oriented so that all public space is overlooked. Every home has a garden, roof garden, courtyard or good-sized balcony. The scheme will accommodate a mixture of social and private housing.
Heights/massing of buildings are tailored to the streets on which they are located, with a 5/6-storey 'terrace/courtyard hybrid' shown in the narrower more intimate streets.
The project has been conceived on close collaboration with local residents, a variety of local interest groups and with the cooperation of Hackney Statutory Authorities. It has been designed to meet the requirements of the Urban Task Force, a new government planning policy guidelines and London Borough of Hackney's UDP.
The project's success will hinge on the continued involvement of local people and on the adherence of development partners to the strategies set out in this document.